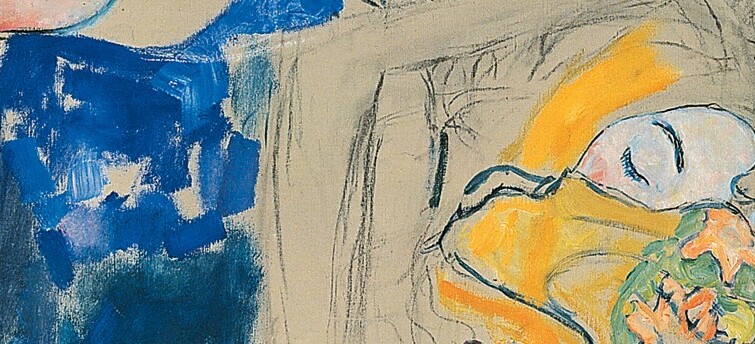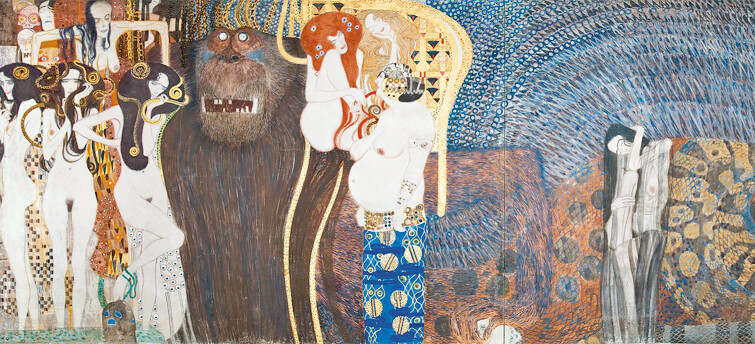 1902: Secession & Beethoven Frieze
In 1897 Gustav Klimt left the conservative Austrian Artists' Society Künstlerhaus with a group of like-minded artists and founded the Austrian Association of Visual Artists Secession. Klimt became the Secession's first president, created the poster for their first exhibition and designed the first sketches for the Secession building, which was eventually designed by Josef Maria Olbrich and erected in 1898 close to the Naschmarkt. Between 1898 and 1905, the association organized 23 ground-breaking exhibitions, presenting leading artists of International Modernism, including Cezanne, Monet, van Gogh, Rodin, Holder and Munch, for the first time to Viennese audiences. The Secession also published its own magazine, called Ver Sacrum.
On the occasion of the 14th Secession exhibition, which was dedicated to the 75th anniversary of Ludwig van Beethoven's death, Klimt presented his 34-meter-long wall cycle Beethoven Frieze as an interpretation of Ludwig van Beethoven's 9th Symphony by Richard Wagner. Under the artistic direction of Josef Hoffmann, a total number of 21 artists participated in the exhibition. The central exhibit was a Beethoven Statue by Max Klinger positioned in the main exhibition room. The stated aim of the exhibition was to reunite individual artistic genres – architecture, painting, sculpture and music – through a common theme. The "Gesamtkunstwerk", or total work of art, was meant to emerge from the interplay of interior decoration, mural art and sculpture. With almost 60,000 visitors, the presentation became one of the Secession's most popular exhibitions.
Originally only intended as an ephemeral artwork for the 14th Secession exhibition, it was down to a fortunate coincidence that the frieze has survived to this day. A highlight of Viennese Jugendstil, it is among Klimt's chief works. In 1903 the frieze was acquired by the art collector Carl Reininghaus, who sold it to the industrialist August Lederer in 1915. Lederer was one of Klimt's most important promoters and owned arguably the most extensive and important private Klimt collection at the time. In 1938, the Lederer family was dispossessed and the frieze put under "state administration". After the end of World War II, Erich Lederer decided to sell the frieze to the Republic of Austria. The wall cycle has been permanently accessible to the public since the general refurbishment of the Secession building in 1986.

Secession
www.secession.at