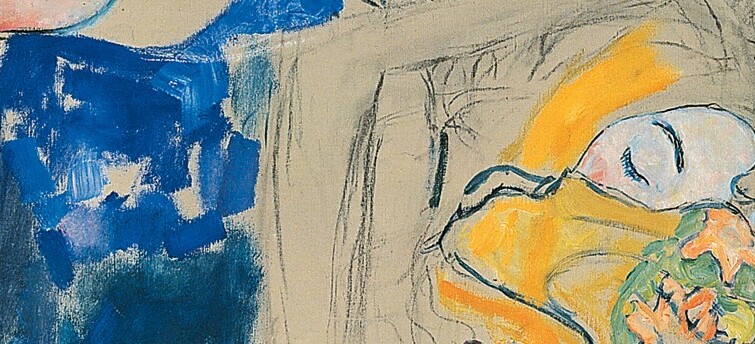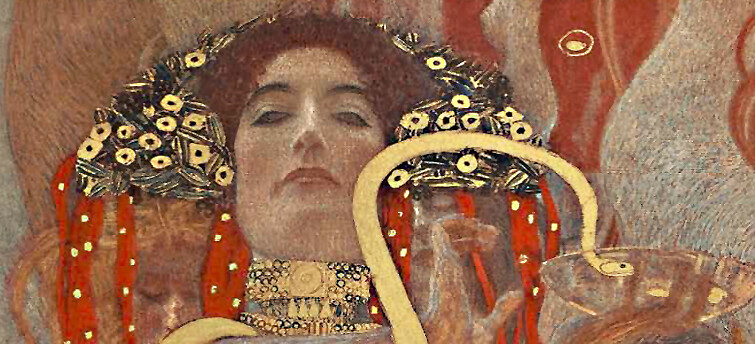 1894–1905: Faculty Paintings Scandal
Rarely has there been a project in Austrian art history that encountered this much opposition from the beginning. In 1894 the art committee of the Ministry of Education commissioned Gustav Klimt and Franz Matsch to design the ceiling paintings for the assembly hall of the University of Vienna, built by Heinrich Ferstel (1828-1883), and approved a budget of 60,000 Guilders (today approximately 400,000 Euros). Klimt was asked to create allegorical renderings of the faculties Medicine, Jurisprudence and Philosophy along with the pendentive paintings, while Matsch designed Theology and the large central depiction entitled Triumph of Light.
Klimt first presented his rendering Philosophy at the 6th Secession exhibition in 1900, followed by Medicine at the 10th Secession exhibition in 1901. Both works met with fierce criticism and sparked outrage over Klimt's departure from the hitherto adhered to historic-conservative painting traditions. Klimt was asked several times to rework his motifs and even rented a second studio with higher walls in Vienna's 8th district, Florianigasse 54, to accommodate the large-scale paintings. Klimt's Faculty Paintings became a political issue. In 1905 the artist refused to deliver the paintings to the Ministry of Education and, aided by his patron August Lederer, paid back his fee of 30,000 Crowns (today approximately 162,000 Euros). It was to be Klimt's last public commission.
The Faculty Paintings disappeared into public and private collections. In 1943 the works were exhibited for the last time as part of the Klimt presentation shown at the exhibition hall Friedrichsstraße (formerly Secession). Owing to the threat of an impending air raid on Vienna, the paintings were evacuated to Immendorf Castle in Lower Austria. Together with many other works by Klimt, the Faculty Paintings were destroyed in a fire set by the retreating German army during the last days of war.
A detail from the rendering Medicine is the only color reproduction known to date of the large-scale works. Matsch's painting Theology still exists today. On the initiative of Peter Weinhäupl, the Leopold Museum reconstructed the originally planned hanging of the Faculty Paintings in 2005. Black and white facsimiles of the works measuring 4.5 x 3 meters were attached to the ceiling of the assembly hall of Vienna University at a height of 15 meters.


University of Vienna
www.univie.ac.at