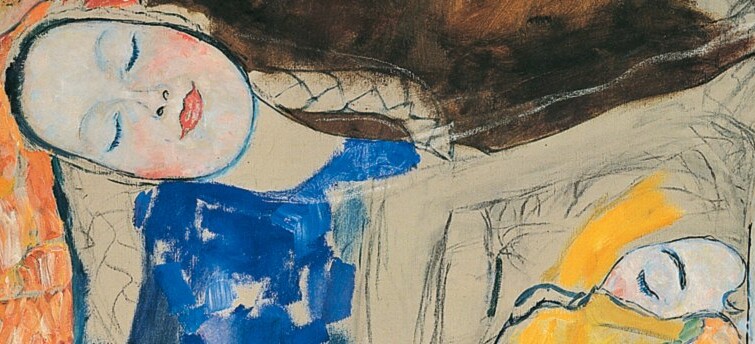 Inventory of the Foundation
At the time of its creation in September 2013, the collection of the Gustav Klimt | Wien 1900-Private Foundation (Klimt Foundation) comprised oil paintings and drawings by Gustav Klimt, a book by Georg Klimt about the life of the Klimt family as well as varied correspondence between Gustav Klimt and Maria Ucicka, the mother of Gustav Ucicky. This collection is currently being scientifically documented and reviewed. The results of this research will be published in the publication series of the Klimt Foundation.
The foundation's charter allows for the collection to be enlarged through donations and acquisitions of artworks. The main focus when extending the collection is on Austrian art between 1890 and 1918. The foundation is a non-profit organization and does not operate commercially on the art market.
Please direct loan requests to the board of the Klimt Foundation:
direktion@klimt-foundation.com
Works of the Klimt Foundation currently on display
June 20th, 2020-Oct. 26th, 2020: Gustav Klimt-Zentrum, Schörfling am Attersee
Floral Worlds - Flourishing Jugendstil
Since March, 16th 2018: Leopold Museum, Vienna
Vienna 1900. Birth of Modernism
Since February, 8th 2019: Österreichische Galerie Belvedere, Wien
Permanent Collection
Works of the Klimt Foundation on display - Archive

21st June 2019-27th Oct. 2019: Gustav Klimt-Zentrum, Schörfling am Attersee
Floral Worlds - Flourishing Jugendstil
27th Aug. 2019-08th Dec. 2019: National Museum of Art, Osaka
Vienna on the Path to Modernism
23rd April 2019-14th Oct. 2019: Municipal Museum of Art, Toyota
Gustav Klimt. Vienna - Japan 1900
24th Apr. 2019-05th Aug. 2019: National Art Center, Tokyo
Vienna on the Path to Modernism
23rd Apr. 2019-10th June 2019: Metropolitan Art Museum, Tokyo
Gustav Klimt. Vienna - Japan 1900
09th March 2019-30th June 2019: Museo di Santa Chiara, Gorizia
Francesco Giuseppe I, uomo, imperatore, patrono delle scienze e delle arti
10.10.2018-27.01.2019: Barbican Art Gallery, London
Modern Couples: Art, Intimacy and the Avant-garde
19.10.2018-17.02.2019: Belvedere Museum, Vienna
Egon Schiele. The Making of a Collection

03.10.2018-14.01.2019: Fondation Louis Vuitton, Paris
Egon Schiele
22.06.2018-04.11.2018: Leopold Museum, Wien
Gustav Klimt. Artist of the Century
24.08.2018-29.10.2018: Leopold Museum, Wien
Moriz Nähr. Photographer of the Viennese Modernism
12.05.2018-30.09.2018: Gustav Klimt Zentrum am Attersee, Kammer-Schörfling
Gustav Klimt & Emilie Flöge. Summer Sojourns on the Attersee 1900-1916
28.04.2018-20.08.2018: Centre Pompidou-Metz, Metz
Modern Couples: 1900-1950
23.09.2017-21.01.2018: Palazzo Roverella, Rovigo
Secessioni Europee – Monaco, Vienna, Praga, Roma. Von Stuck, Klimt, Vachal, Casorati
16.12.2016-26.03.2017/28.05.2017: Museo Santa Chiara, Gorizia
Nel segno di Klimt. Gorizia, salotto mitteleuropeo fra tradizione e modernità
15.04.2017-26.10.2017: Gustav Klimt Zentrum am Attersee, Kammer-Schörfling
Gustav Klimt & Emilie Flöge. Sommerfrische am Attersee 1900–1916
16.12.2016-28.05.2017: Museo Santa Chiara, Gorizia
09.02.2017-08.05.2017: The Klovićevi Dvori Gallery, Zagreb
The Challenge of Modernity. Zagreb – Vienna about 1900
22.11.2016-24.11.2016: Palais Schönborn-Batthyány, Wien
35 Jahre Sotheby´s Österreich Jubiläumsausstellung - A Glimpse into Austrias Private Collections
04.06.2016-26.10.2016: Gustav Klimt Zentrum am Attersee, Kammer-Schörfling
Emilie Flöge - Reform der Mode. Inspiration der Kunst
19.03.2016 - 19.06.2016: Buchheim Museum, Bernried
Klimt & Shunga - Explizit Erotisches aus Wien und Japan
22.10.2015 – 28.02.2016: Österreichische Galerie Belvedere, Wien
The Women of Klimt, Schiele and Kokoschka
26.06.2015 – 02.08.2015: Gustav Klimt Center on the Attersee, Kammer-Schörfling
The Visit of the Young Ladies
12.02.2015 – 21.06.2015: Pinacothèque deParis, Paris
In the Time of Klimt
17.12.2014 – 19.04.2015: Museum für angewandte Kunst, Wien
Wege der Moderne. Josef Hoffmann, Adolf Loos und die Folgen