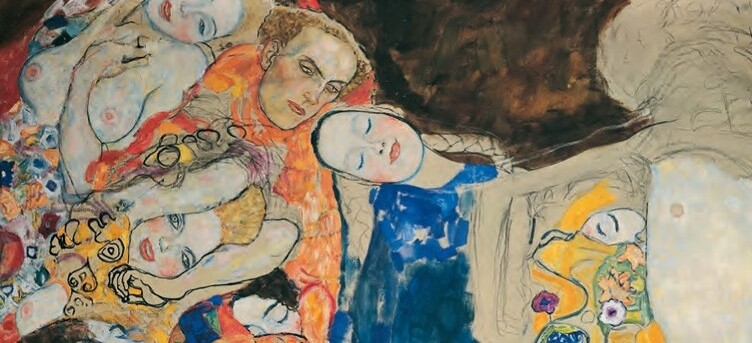 Atelier Feldmühlgasse 1911-1918
Gustav Klimt's refuge in Vienna-Hietzing, Feldmühlgasse 11 (formerly 9), is known today as Klimt Villa.
In fact, Klimt's Biedermeier house was built over with a neo-baroque villa in 1923, which indirectly created a protective cover for the studio that is still preserved today. The artist used the house, located away from the hustle and bustle of the city, but nearby the extensive garden of Schönbrunn and the "Tivoli" establishment from 1911 until his death in 1918, where he completed around 50 paintings and hundreds of drawings. His studio became a private meeting place for numerous artist colleagues and art collectors.
As part of a research cooperation between the Klimt Foundation and the Klimt Association, the history of the studio is documented for the first time. Guests who visited Klimt in the studio have their say, as do Klimt experts who discuss the facets of his collection, his affinity for Japan, the famous garden or his living environment between the Viennese districts Neubau and Hietzing as well as his meeting points "Tivoli" and Schönbrunn.
The English edition is in planning!
Edition Klimt, Volume 1 (German):
Gustav Klimt. Atelier Feldmühlgasse 1911-1918
Edited by Sandra Tretter, Peter Weinhäupl, Felizitas Schreier, Georg Becker
With contributions from Georg Becker, Heide Buschhausen, Helmit Buschhausen (+), Martina Leitner, Felizitas Schreier, Verena Traeger, Sandra Tretter, Peter Weinhäupl, Johannes Wieninger und einem Vorwort von Alessandra Comini und Plácido Domingo
ISBN 978-3-85033-846-2
Brandstätter Verlag, Wien, 2014, € 24,90